Mr. Kerstein, former trial counsel with Gibson Dunn, becomes Validity's Chief Risk Officer; Ms. Gewolb, previously with Boies Schiller, named Director of Underwriting; their arrival accelerates Validity expansion six months after launch; firm takes new office in New York's Rockefeller Center
---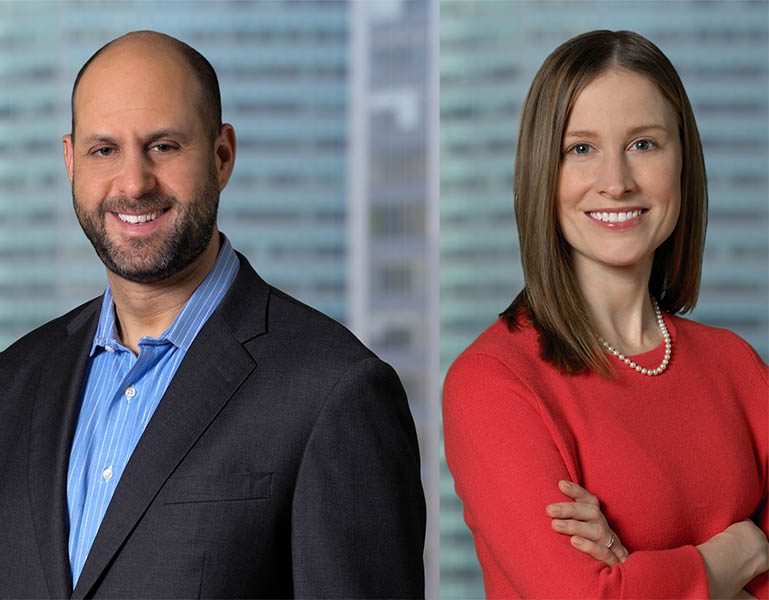 NEW YORK — Litigation funder Validity Finance has added two industry veterans and experienced trial lawyers to its team: David Kerstein and Julia (Hamilton) Gewolb. Mr. Kerstein joins as Chief Risk Officer and Ms. Gewolb as Director of Underwriting.
The pair reunite with Validity founder & CEO Ralph Sutton in New York. All three had previously worked together at Bentham IMF, where Mr. Sutton was formerly Chief Investment Officer for five years. Both also bring strong litigation backgrounds – Mr. Kerstein spent 14 years trying cases at Gibson, Dunn & Crutcher; Ms. Gewolb previously practiced at Boies, Schiller & Flexner after clerking for a federal judge.
Mr. Kerstein and Ms. Gewolb will have a direct hand in helping source, vet and oversee capital commitments at Validity, which provides claimants and law firms with funding as well as strategic advice in resolving complex legal disputes. They join Validity's other investment managers, Justin Barker and Laina Miller, who oversee Validity's Chicago and Houston offices.
Validity, which launched in June with $250 million in committed capital, has quickly ramped up investments in single cases and portfolios handled by some of the country's leading law firms. The firm is funding a variety of business disputes, including cases involving breached contracts, insurance claims, trade secrets and other intellectual property assets.
Validity also has just relocated its growing New York office to 1270 Ave of the Americas, in the heart of Rockefeller Center.
"I'm thrilled to be putting the band back together at Validity," said Mr. Sutton, who had recruited Mr. Kerstein and Ms. Gewolb for Bentham four years ago.
"Dave and Julia are gifted litigators and trial strategists who have become superb litigation finance professionals," he added. "Their arrival significantly enhances our ability to expand Validity's network of law firm and client relationships, increase our focus on transparent, fair client-first funding, and of course, assess cases for investment. In their new strategic roles, Dave and Julia will work closely to assess and balance our investment risk as it continues to grow and diversify."
Mr. Sutton noted that the increase in capital in the commercial litigation finance industry has led to acceptance by larger law firms. Over time, law firms will help introduce funding to their corporate law departments, who will seek to transfer risk from their litigation expense budgets using litigation finance tools, including defense funding. "Big Law has discovered litigation finance, and like a good idea whose time has come, its widespread use is inevitable."
The Validity CEO added that these arrivals mark a new inflection point in the litigation finance space: "We're seeing more lateral movement among senior professionals as the business matures," Mr. Sutton said. "The playing field has broadened considerably in the past four-five years, with new entrants and sources of capital coming to market– another reason we're especially pleased to have Dave and Julia on our team. They have worked together extensively on some of the largest investments at Bentham, and will help us enormously in making our mark in a competitive sector."
Mr. Kerstein said, "Julia and I are excited to join Ralph at this early stage of Validity's life. Ralph is a true pioneer of dispute funding in the U.S., and he's been an active innovator in creating new funding products for clients. We've also had enormous fun working together in the past, and are looking forward to more in the future."
As a senior investment manager and counsel at Bentham, Mr. Kerstein sourced and analyzed potential litigation investments. Prior to joining Bentham in 2014, he was a trial counsel with Gibson, Dunn, handling complex commercial disputes, with a focus on bankruptcy, M&A disputes and international arbitration. Mr. Kerstein has won large recoveries for plaintiffs and also scored major defense wins. He earned both his J.D. and B.A. from the University of Pennsylvania.
As legal counsel at Bentham, Ms. Gewolb analyzed new cases, assisted with strategic communications and helped establish due diligence criteria and methods for potential investments. She was previously a senior associate at Boies Schiller, focusing on complex commercial litigation. Ms. Gewolb holds a J.D. from New York University School of Law, where she graduated magna cum laude, and was managing editor of the New York University Law Review. She received her B.S.F.S. cum laude from Georgetown University. Ms. Gewolb also served as law clerk for Judge Gladys Kessler of the U.S. District Court for the District of Columbia.
###
About Validity:
Validity heralds a new wave of legal funding by providing clients with the financial resources and strategic advice needed to ensure complex legal disputes are resolved on their merits. Validity's mission is to make a meaningful difference in the legal system by focusing on client needs, both in the investment process and in the results.