April 13, 2023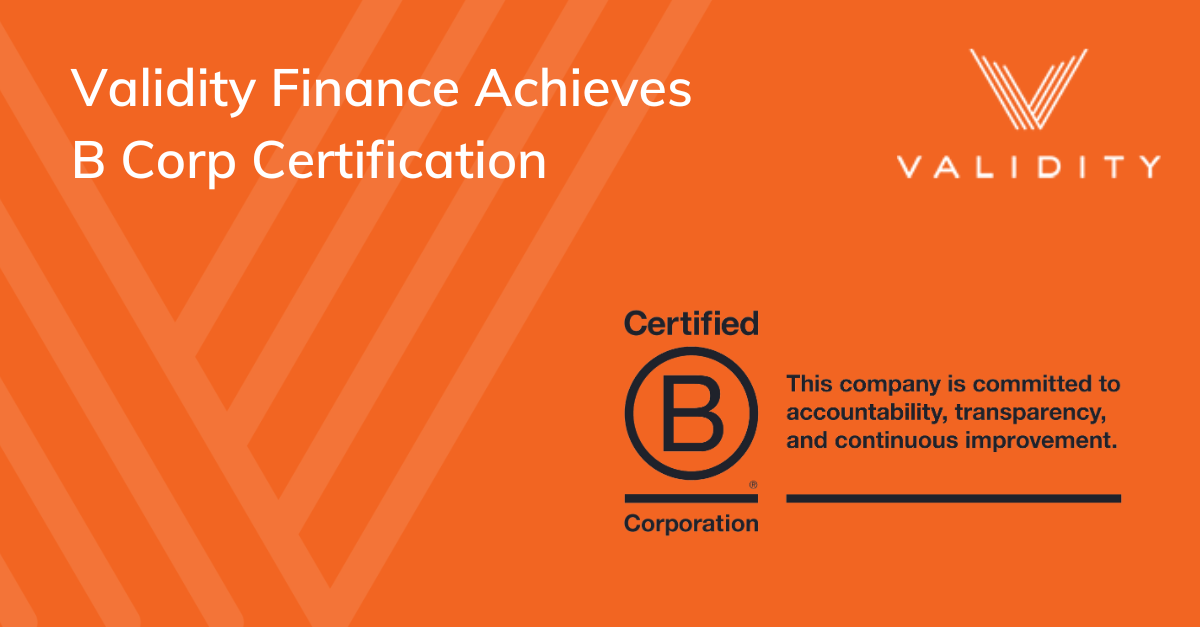 Validity Finance is First Commercial Litigation Funder to Achieve B Corp™ Certification
Company Meets Highest Verifiable Standards of Corporate Accountability
Validity Finance, one of the largest private commercial litigation funders in the United States, today announced that it has been awarded Certified B Corporation™ (B Corp) status. This recognition acknowledges Validity's accountability to its stakeholders, including employees, investors, clients, and the communities in which it operates. Since its founding, Validity has been a purpose-driven organization focused on funding meritorious litigation as a corrective measure for an unbalanced legal system, and its new B Corp status reflects this commitment.
Validity's B Corp certification, bestowed by the nonprofit B Lab, is an acknowledgement that the company is meeting high standards of verified performance, accountability, and transparency on factors ranging from environmental sustainability to employee benefits and corporate governance. Validity is the first U.S. commercial litigation funder to achieve B Corp status, a significant milestone in the maturation of the litigation finance sector, joining such prominent companies as Patagonia, Bomba, and Warby Parker.
"The B Corp evaluation process offered an excellent framework for Validity to review and improve our policies and practices, and to affirm our commitment to making a meaningful impact for our clients and the legal community," said Ralph Sutton, Validity's Founder & CEO. "Since our founding five years ago, we have been guided by a promise to not only help promote fairness in the legal system, but also to adhere to the strictest ethical standards in our business operations."
There are currently only 6,000 Certified B Corporations across more than 80 countries and 150 industries. To become a Certified B Corporation, companies must undergo a comprehensive, multi-year assessment of the impact of their operations and business models on their workers, customers, communities, and environment, and must receive a minimum verified score on the B Impact Assessment. Certified B Corps are legally required to consider the impact of their decisions on all stakeholders.
"At a time when the U.S. Chamber of Commerce is attempting to leverage misinformation to unfairly stigmatize the litigation funding sector and to preserve the unfair advantage traditionally afforded deep-pocketed defendants in commercial litigation, we are proud to spotlight our corporate purpose," said Julia Gewolb, Validity's Chief Risk Officer.
Validity approaches every funding opportunity with a focus on trust, fairness, and transparency, enabling the company to build and sustain long-term client relationships by empowering clients with the resources they need to pursue and resolve meritorious litigation fairly and equitably. With decades of combined experience in funding, the Validity team of trial-tested attorneys has invested more than $400 million since 2018 across more than 70 matters.
"As commercial litigation funding expands in the U.S., it's important to engage and educate people about the industry's dedication to a more equitable legal system," said Roman M. Silberfeld, National Trial Chair at Robins Kaplan. "I commend Ralph and Validity for being so forward-thinking and taking this significant step to solidify their commitment to responsible business practices."
About Validity Finance
Validity is a leading commercial litigation finance company dedicated to fair and transparent funding practices that build trust. The first funder to become a certified B Corp, Validity's mission is to make a meaningful difference in the legal system by helping clients bring good cases to trial with top counsel, while managing legal spend and risk. We believe every client has the right to a fair deal, clear term sheets, access to strategic advice, and timely responses. We invest in commercial, patent, bankruptcy, and breach of contract litigation, as well as international arbitration. Clients and law firms count on Validity for reliable capital, strategic resources, and risk mitigation that supports their litigation goals.
MEDIA CONTACT: 
Clay Steward - claytons@infiniteglobal.com