June 8, 2022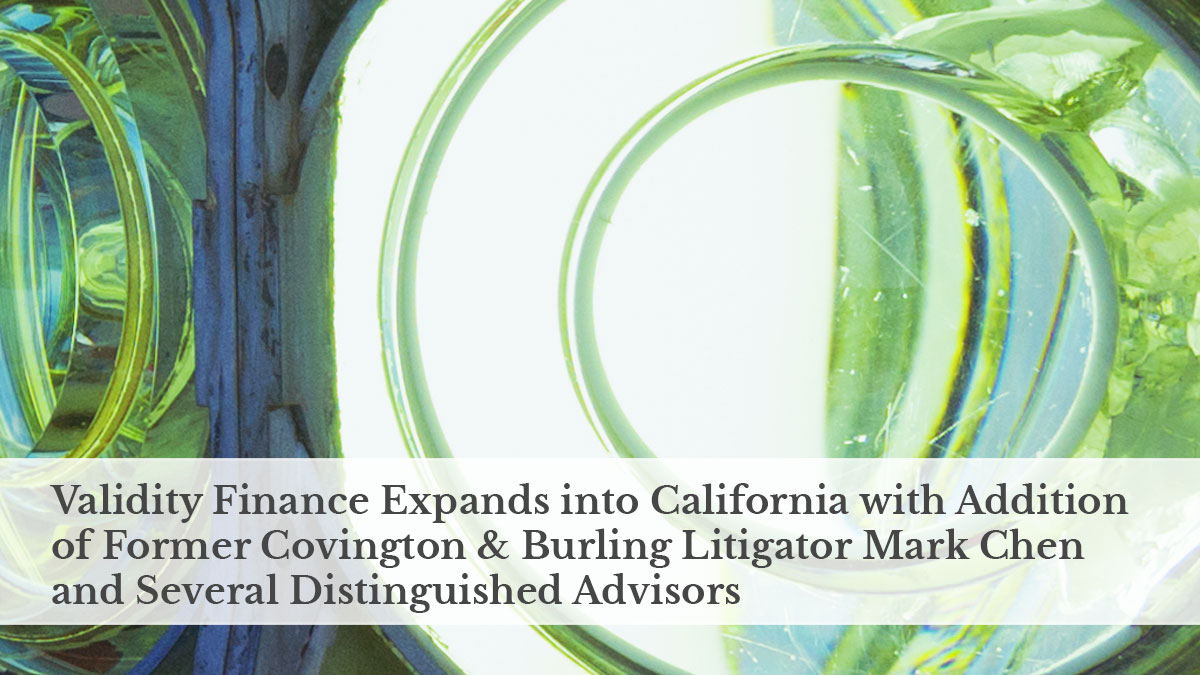 Firm sees significant growth ahead for dispute funding in the California market; Validity welcomes two prominent California trial lawyers as senior advisors – Thomas Nolan and J. Thomas Hannan; also adds noted litigation valuation expert Gene Phillips, CEO of PF2 Securities, as special advisor
LOS ANGELES (June 7, 2022) – Leading litigation funder Validity Finance announced it has expanded to California, adding experienced litigator Mark Chen as portfolio counsel in Los Angeles. Mr. Chen was previously special counsel with Covington & Burling in LA, representing clients in complex commercial disputes, including major intellectual property cases in the entertainment sector. In his new role, he will help assess Validity's funding opportunities with law firms and businesses in Southern California and the West Coast.
Validity also named as senior advisors two high-profile California litigators, Thomas J. Nolan and J. Thomas Hannan. Mr. Nolan is trial counsel in the Los Angeles office of Pearson, Simon & Warshaw; Mr. Hannan is of counsel to Bartko Zankel Bunzel & Miller in San Francisco. In their new advisory roles, they will assist Validity in furthering relationships with law firms and entities in need of litigation finance for commercial disputes.
Additionally, Validity appointed noted litigation valuation expert Gene Phillips as a special advisor. The L.A.-based Mr. Phillips will assist Validity in quantitative analysis, damages valuation and strategic relationship-building. Mr. Philips is CEO of PF2 Securities, which provides research and expert witnesses in large-scale financial disputes.
With its latest expansion coinciding with the firm's fourth anniversary, Validity has achieved a national footprint, with offices in New York, Houston, Washington, DC, and Los Angeles.
"We're excited to establish a presence in Southern California, one of the country's most robust legal markets and home to some of the nation's busiest civil court venues," said Validity CEO Ralph Sutton.
"We've previously collaborated with Los Angeles-based trial firms in funding successful matters and the time was right to plant our flag here," he added. "We're especially pleased to bring on Mark Chen from Covington to enhance our LA operations. He brings a strong track record representing both plaintiffs and defendants in high-stakes cases, including many high-profile matters.
While at Covington & Burling, Mr. Chen litigated matters for clients across a range of industries, including tech, healthcare and entertainment. His representations included multiple matters for the U.S. Olympic Committee, Sony Music Entertainment, and others.
Mr. Chen graduated summa cum laude from Cornell Law School, where he was an editor of the Cornell Law Review, and later clerked for Hon. Stanley Marcus, Senior U.S. Circuit Judge with the U.S. Court of Appeals for the 11th Circuit. Mr. Chen holds a B.A. in business administration from the University of California, Berkeley.
New Senior Advisors Tom Nolan and Tom Hannan
Commenting on the appointment of Messrs. Nolan and Hannan as senior advisors, Mr. Sutton said, "Tom and Tom are both veteran California trial lawyers who have served as lead counsel in numerous major cases. They bring important perspective, expertise and broad relationships based on decades of successful trial practice. We're fortunate to welcome them as senior advisors as we grow our West Coast presence."
A fellow of the prestigious American College of Trial Lawyers, Mr. Nolan is one of the nation's preeminent trial lawyers, with broad experience in complex commercial disputes including class actions, antitrust, fraud, contract, and intellectual property matters. His extensive trial record includes winning jury verdicts of more than $1 billion for his clients and defeating claims exceeding $15 billion asserted against his clients.
Mr. Nolan started his career in public service as a federal prosecutor, during which time he served as the chief of fraud and special prosecutions in the Los Angeles U.S. Attorney's Office. He then spent nearly 30 years in big law at Howrey, Skadden and Latham & Watkins before joining Pearson, Simon & Warshaw in 2020.
Mr. Hannan is an accomplished trial lawyer with a national reputation and noted success representing both plaintiffs and defendants in complex commercial cases. Mr. Hannan served as judicial law clerk to renowned US district judge Alfonso J. Zirpoli in the Northern District of California. He practiced law for over 40 years with his equally well-known partner Ron Lovitt at Lovitt & Hannan. Together, they successfully litigated a wide variety of professional negligence, fraud and complex commercial matters.
New Special Advisory Role for Gene Phillips
Commenting on Gene Phillips' addition to Validity's distinguished roster of outside advisors, Mr. Sutton said, "While the law firms and clients with whom we work are the ones ultimately litigating our funded matters – whether bringing cases or negotiating settlements – it's essential that our due diligence includes strong economic and data-driven analysis in helping us deploy our capital. That process will benefit tremendously from the contributions of Gene Phillips as special advisor. Gene is one of the industry's leading litigation experts, and his large network of lawyers and experts will add strategic depth to Validity". Mr. Phillips holds a BSc degree in mathematics and applied mathematics, and a BSc Hons degree in the Mathematics of Financial Derivatives, from the University of the Witwatersrand in South Africa.
About Validity
Validity is a commercial litigation finance company that provides non-recourse investments for a wide variety of commercial disputes. Validity's mission is to make a meaningful difference in our clients' experience of the legal system. We focus on fairness, innovation, and clarity. For more, visit www.validityfinance.com.