May 20, 2021
Fellowship introduces first-year law students from diverse backgrounds to principles of litigation funding, also providing opportunities to serve legal non-profits.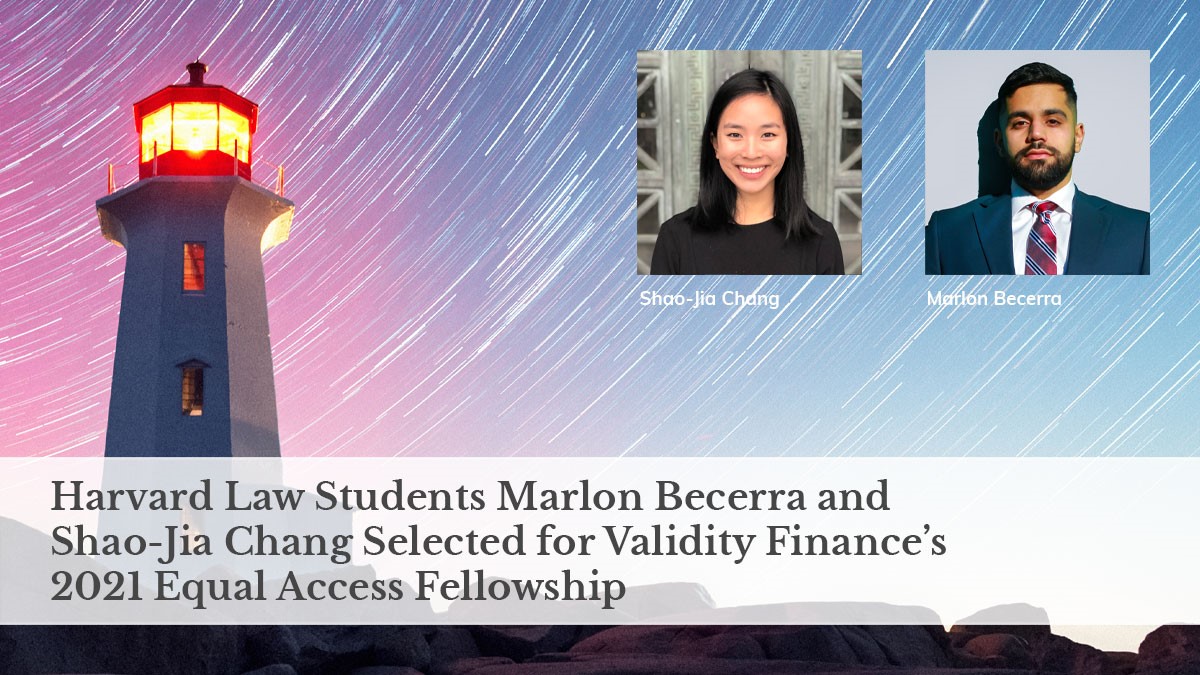 NEW YORK (May 19, 2021) – Validity Finance is pleased to welcome Harvard law students Marlon Becerra and Shao-Jia Chang for its 2021 Equal Access Fellowship. The program, in its third year, provides a 10-week paid summer fellowship to first-year law students of diverse backgrounds.
The Equal Access Fellows spend the first half of their summer at Validity learning basic principles of litigation funding, and the second half working at a legal non-profit of their choice. Validity, which covers Fellows' salary for the entire 10-week program, is one of the only litigation funders to provide such a program for first-year law students.
Mr. Becerra and Ms. Chang will both work at Validity for the first five weeks of their fellowship, from June 1 through July 3. They will assist in analyzing potential case investments, participating in meetings with claimants and lawyers, and conducting legal research on topics related to litigation and dispute funding. Like many major law firms, Validity is introducing a hybrid return to work, mixing in-person visits to its New York office with remote work, as the rest of its team has been doing in recent months.
"We're proud to have Marlon and Shao join us as Equal Access Fellows for the summer of 2021," said Validity Finance founder and CEO Ralph Sutton. "Both have outstanding backgrounds, including personal histories that may not have suggested they'd end up at one of the nation's top law schools. We're also pleased to have arrived at a point in the pandemic where we can offer an in-person experience for Marlon and Shao."
The two Fellows were chosen from a pool of 36 applicants from 18 top-tier law schools. Candidates submitted academic transcripts and essays addressing their interest in litigation funding and describing how they have overcome personal challenges.
Mr. Sutton commented, "Given the past year's events — pandemic-related and in terms of social justice — there is a heightened need for young lawyers interested in helping to expand equal access to the civil justice system, which is one of Validity's core mandates as a litigation funder."
About Equal Access Fellow Marlon Becerra
A native of Jackson Heights, New York, Marlon was the first member of his family to attend college. He obtained his B.A. in Economics from Political Science from Hampshire College and is now a rising second year student at Harvard Law.
Having to return to New York in the middle of his first year of law school, Marlon created an initiative called Civic Engagement and Social Justice for Legal Outreach, Inc. The non-profit teaches New York City high school students of color how to be more proactive leaders in addressing social issues. "As many of the students come from the inner-city, they are particularly interested in addressing the obstacles preventing them from having an equal opportunity to succeed in high school and in college," he wrote in his personal statement. "I partnered with attorneys from firms across the city to support the students' efforts to develop and implement campaigns to address their social justice issues."
During the summer of 2020, Marlon worked for the NYC Department of Social Services' Employment Law Division. As he notes, "I had the opportunity to write a memorandum recommending how COVID-19 guidelines will impact the agencies' accommodation policies. I saw the importance of considering people's access to resources and justice, as we focused on urgent issues impacting one of the city's largest agencies that both hires and serves primarily minority communities."
At Harvard, Marlon is a member and Section Representative of the law school's chapter of the American Constitutional Society for Law and Policy, which promotes progressive legal change in order to realize economic and social justice. He is also a member of La Alianza, a student-run organization composed of Latinx and Latin American students interested in issues affecting the Latinx community at Harvard Law, and a member of HLS First Class, a student affinity group for first generation law students.
About Equal Access Fellow Shao Chang
Shao Chang grew up in a rural Northern California town of only 4,500 residents, where she notes, "few families lock their front doors, and many people proudly leave their keys in the ignition." She writes of frequent bias against her own parents and her own early struggles with proficiency in English.
Shao obtained her B.A. in Psychology and Legal Studies from the University of California, Berkeley, in 2017. She received Dean's Honors and Highest Honors in Legal Studies, and is a member of Phi Beta Kappa.
Following college, Shao spent several years as a field representative and aide for Napa-area Congressman Mike Thompson. She recalled taking on projects and facing circumstances that were considered too difficult to accomplish in rural parts of the district, which included her hometown. Motivated by a desire to increase equity and access, she asserts, "I did not believe that infeasibility is a reason not to try, especially when it came to the neediest area in the district."
At Harvard Law, Shao is the External Vice President of the school's Mock Trial Association and Willem C. Vis Moot Team, and is a sub-citer for the Harvard Journal on Legislation and the Harvard Negotiation Law Review. She is also a member of the Social Committee of the Asian Pacific American Law Students Association at Harvard, a member of the Reproductive Justice Team of the Mississippi Delta Project at Harvard, and serves on the board of the Women's Law Association.
About Validity
Validity is a commercial litigation finance company that provides non-recourse investments for a wide variety of commercial disputes. Validity's mission is to make a meaningful difference in our clients' experience of the legal system. We focus on fairness, innovation, and clarity. For more, visit www.validityfinance.com.