May 26, 2022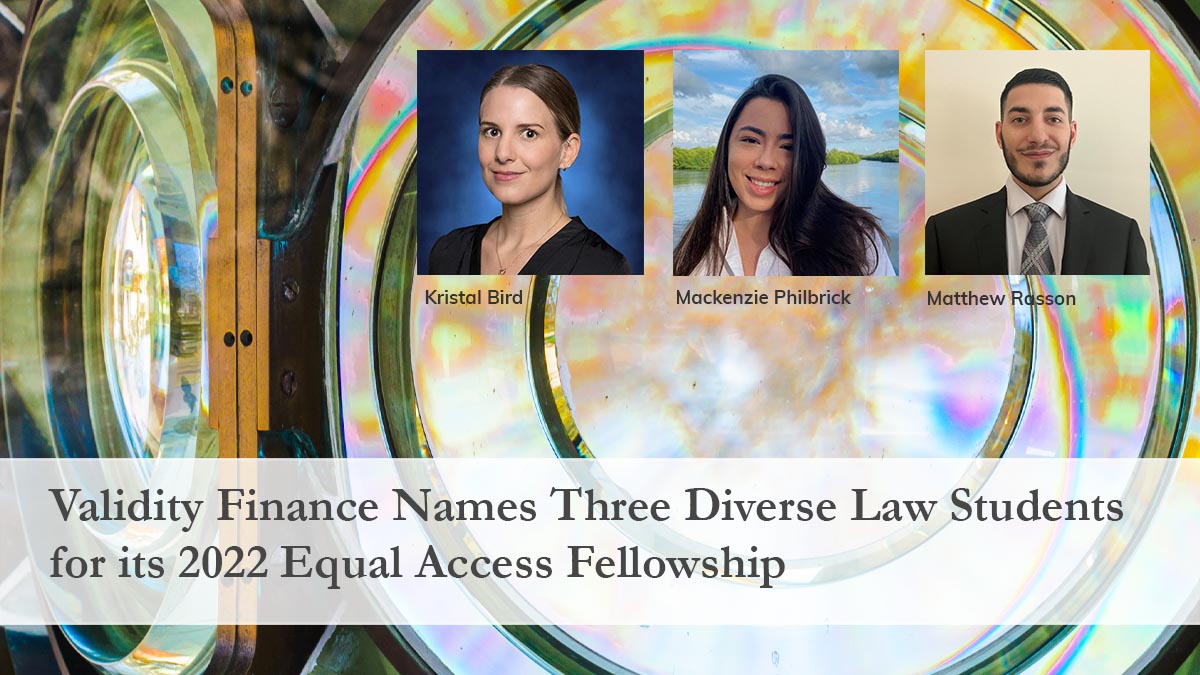 Fellows split 10-week paid program between litigation funder Validity and legal non-profit of their choice
Validity Finance is pleased to welcome Kristal Bird, Mackenzie Philbrick, and Matthew Rasson as our 2022 Equal Access Fellows. The Equal Access Fellowship, now in its fourth year, provides a 10-week paid summer fellowship to first-year law students of diverse backgrounds.
Equal Access Fellows spend the first half of their summer at Validity learning basic principles of litigation funding, and the second half working at a legal non-profit of their choice. Validity, which covers Fellows' salary for the entire 10-week program, is one of the only litigation funders to provide such a program for first-year law students.
While at Validity, Ms. Bird, Ms. Philbrick, and Mr. Rasson will assist in analyzing potential case investments, participating in meetings with claimants and lawyers, and conducting legal research on topics related to litigation and dispute funding.
The three Fellows were chosen from a large pool of applicants from the nation's top law schools. Candidates submitted academic transcripts and essays addressing their interest in litigation funding and describing how they have overcome personal challenges.
"We are privileged to have Kristal, Mackenzie, and Matthew join us this summer as Equal Access Fellows. Each of them brings unique and diverse perspectives in addition to stellar academic credentials," said Laina Hammond, Managing Director and Senior Investment Officer.
"Since inception, our Fellowship program has offered promising law students meaningful experience in the growing field of litigation finance and an early introduction to the business and economics of law and legal risk," Ms. Hammond continued. "This year, in addition to hosting Fellows in our New York office, we are thrilled to have a Fellow in our Houston office for the first time."
Kristal Bird
Kristal comes to us from the University of Texas School of Law, but her studies, work, and life adventures have taken her to California, North Carolina, Las Vegas, Hawaii, Mexico, New Zealand, the Republic of Georgia, Russia, and Eastern Europe. A first-generation college student, Kristal received a B.A. in business administration from California State University, Fullerton, and earned a Master's degree in Global Studies from the University of North Carolina, Chapel Hill.
Kristal's goals include working with and helping people around the globe. After graduate school, she volunteered with AmeriCorps and developed a social enterprise plan to provide financial capability services to underserved communities. She later moved to Guadalajara, Mexico where she invested in two young entrepreneurs who had started a restaurant, which now has three locations and a "ghost" kitchen.
At Texas Law, Kristal participated in the Texas Transactional Skills Competition and the Energy Law Negotiation Competition, and dedicated time to multiple projects under the Mithoff Pro Bono Program. She is currently on the Executive Board of the Texas Business Law Society, a staff member of the Texas International Law Journal, and a member of the Women's Law Caucus.
Mackenzie Philbrick
Mackenzie, a first-year student at Fordham University School of Law, has long pursued educational, professional, and community service opportunities at the intersection of law and business. Her professional interests and personal background have led her, she wrote in her personal statement, to "prioritize the creation of inclusive atmospheres, the amplification of diverse voices, and the facilitation of difficult conversations."
While an undergraduate at Bowdoin College, she participated in Girls Who Invest, an intensive four-week academic instruction program focused on core finance and investment concepts which culminated in an internship with the endowment office at Bowdoin. Between college and law school, she was a legal research intern at Cambridge LLP where she supported the firm's attorneys on cross-border business litigation work. Mackenzie has also volunteered with Legal Aid's Tenant Defense Collective to help tenants apply for New York's Emergency Rental Assistance Program.
At Fordham Law, Mackenzie is a Compliance Affinity Group student representative, and is a member of Fordham Law Women, OUTLaws, Black Law Students Association, Fordham Business and Law Association, and the Fordham Blockchain Law Society. As an undergraduate, she was named a Sarah and James Bowdoin Scholar and was honored with the Anne Bartlett Lewis Memorial Prize in Art History. In her spare time, Mackenzie enjoys museum-hopping, cooking, travelling, and meditation.
Matthew Rasson
As one of five children of refugees who emigrated from Iran to escape religious persecution, Matthew grew up without privilege or resources, but with the values of openness, grit, and determination. In his personal statement, he wrote, "I witnessed first-hand how resolute focus and sacrifice can lead to the attainment of personal goals." That spirit of focus and sacrifice helped him land at Georgetown Law School after graduating cum lade from the University of California, Los Angeles with a B.A. in History.
Matthew worked as an intern at Oakwood Legal in Los Angeles and founded a bitcoin ATM business that facilitated over 10,000 cryptocurrency transactions in Los Angeles. At Georgetown Law, Matthew serves as co-president of the Jewish Law Students Association and is a member of the First Generation Student Union.
Matthew is fluent in Farsi and enjoys playing soccer, smoking meats and baking bread, and pursuing cryptocurrency and NFT projects.
"We are delighted to have three talented law students with incredible backgrounds join us for the summer, when they will gain valuable exposure to litigation funding, tackle a variety of challenging legal problems, and interface with the first-class lawyers we work with each day," said Validity investment manager William Marra.
"Kristal, Mackenzie, and Matthew all have a demonstrated interest in working at the intersection of law and business to make a meaningful difference in their communities and our legal system – which is what we try to do at Validity," he added. "This is the first year we will host three law students, and the growing interest in our fellowship reflects increased awareness of litigation funding not just among lawyers but among law students too."
About Validity
Validity is a commercial litigation finance company that provides non-recourse investments for a wide variety of commercial disputes. Validity's mission is to make a meaningful difference in our clients' experience of the legal system. We focus on fairness, innovation, and clarity. For more, visit www.validityfinance.com.