January 23, 2020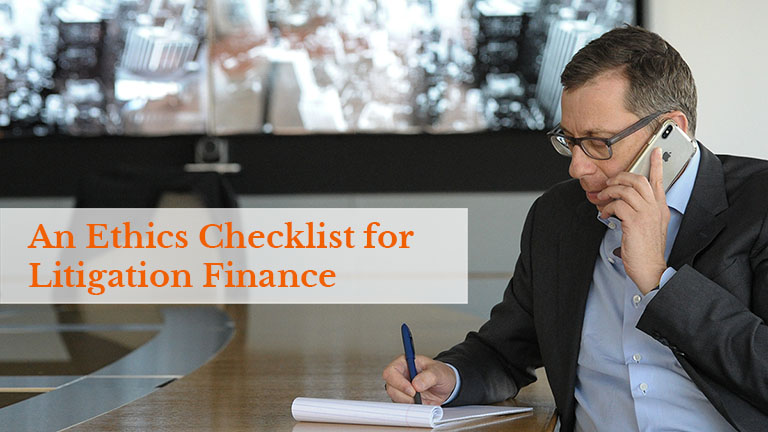 You want to enter into a litigation finance agreement, but you hear there's a maze of ethical and legal rules in your way. This checklist will help you identify the principal issues so you can be better prepared.
The ethics of litigation finance may seem daunting to someone unfamiliar with funding. But the rapid growth of litigation finance, and its use by some of the best lawyers and most reputable law firms in the country, indicate that any issues that do arise are quite manageable. In the vast majority of cases, ethical rules do not prohibit standard commercial litigation finance agreements.
The ethical issues that commonly arise can be sorted into two separate categories. First, there are "gating questions," which ask whether litigation finance is legal in your jurisdiction. Second, there are "process questions," addressed to how lawyers and claimholders should engage with funders, courts, and opposing counsel.
Generally, the gating questions don't prohibit standard commercial funding agreements in most jurisdictions, and the process questions concern issues that litigators already navigate each and every day.
Gating Questions
☑ Does your state prohibit champerty and maintenance? If so, does litigation finance constitute champerty or maintenance?
Most jurisdictions have either abolished champerty and maintenance, or don't apply those doctrines to commercial litigation funding transactions. Validity's William C. Marra recently authored an article for Bloomberg Law on this topic that explore this topic in more detail.
☑ Does your state's usury laws prohibit your funding transaction?
In virtually all jurisdictions, usury laws don't apply to "non-recourse" litigation finance transactions, where the funder's return is contingent on success of the litigation. Many jurisdictions also exempt large-dollar transactions with corporations from usury laws.
☑ Does the litigation finance transaction constitute impermissible fee-sharing, in violation of the legal ethics rules?
Single-case investments where a litigation finance company contracts directly with a claimholder do not implicate the rule against fee sharing, because there simply is no sharing of fees between the lawyer and funder. And investments directly with law firms are typically backed by a portfolio of three or more cases, rather than by a single case, to avoid fee-sharing concerns.
Process Questions
☑ If you are a lawyer, does your client consent to sharing confidential information with a funder?
Legal ethics rules generally require client consent before a lawyer shares confidential information with another party, so lawyers should obtain client consent.
☑ Have you entered into a non-disclosure agreement with a litigation funder?
It is best practice for clients or law firms that seek funding to enter into a non-disclosure agreement with a funder before disclosing confidential information. An oral NDA is sufficient, but a written NDA is better.
☑ Are your communications with a funder protected by the work-product doctrine or the attorney-client privilege?
The great weight of authority holds that communications between a funder on the one hand, and counsel or claimholder on the other hand, are protected from disclosure by the work-product doctrine. However, funders should not receive attorney-client communication that is not otherwise protected by the work product protection. Work-product protection and attorney-client privilege are covered in more detail in the article "How to protect confidentiality during litigation funding".
☑ Do you have to disclose the existence of litigation finance to the court or opposing counsel?
Check with your local laws and court rules, but most jurisdictions do not require automatic disclosure of litigation finance transactions. Where automatic disclosure is not required, the usual rules of discovery apply.
For a more in-depth exploration of these ethics topics see also the June 2019 article "The Ethics of Litigation"