February 22, 2023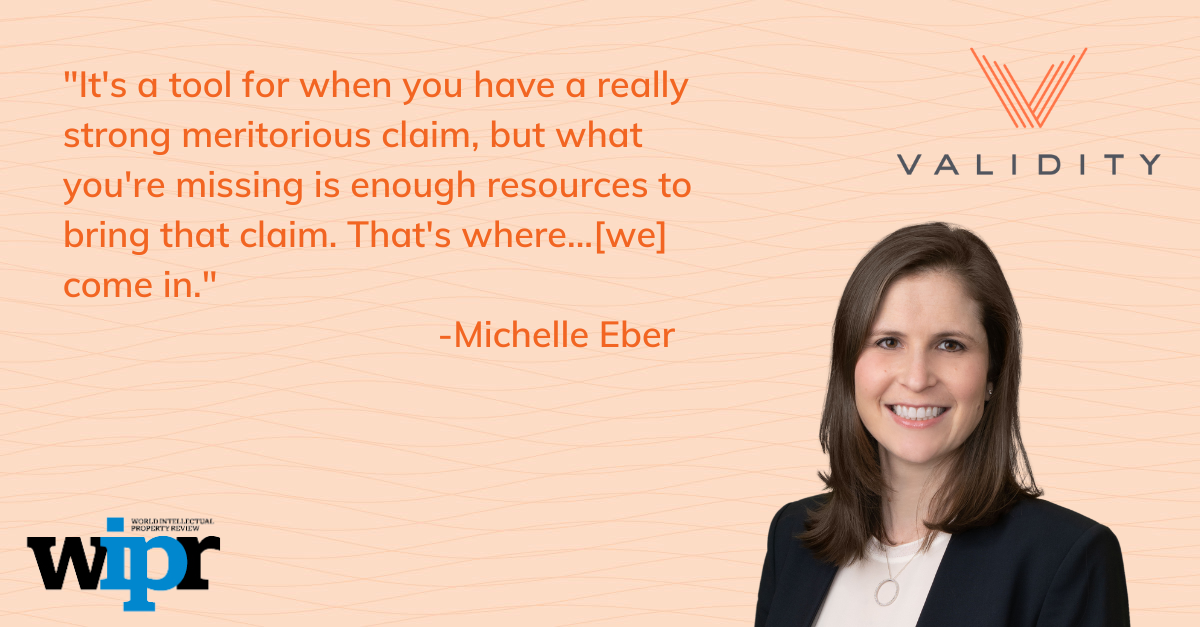 Michelle Eber was quoted extensively in a recent article in World IP Review, "Litigation Funding Booms Despite Trolls' Shadow." The article discusses the increased role litigation funding is playing in IP litigation, and why it can be a crucial tool when pursuing a meritorious claim.
"As Michelle Eber, portfolio counsel at litigation funder Validity Finance, observes, the 'word is getting out' about this increasingly attractive option for both companies and law firms. And while patent litigation was once seen as a potentially dicey investment for funders, her company now sees around a quarter of its entire investments filter through to these types of cases. 'We're seeing more competition, and more funders, coming into the space. It's a tool for when you have a really strong meritorious claim, but what you're missing is enough resources to be able to bring that claim. That's where folks like us come in,' says Eber."
It's a view shared by Haynes Boone partner Richard Rochford, who is also quoted in the article. "Chair of the firm's IP litigation practice group, he is increasingly in regular contact with third-party funders when working on cases. The popularity of patent funding litigation has been developing for a number of years, and may gain greater traction during tough times to come, he notes. This trend, in his view, is an overwhelmingly positive one. 'Having the opportunity to partner with a funder to pursue their rights is certainly a great alternative that we think will increase in use, perhaps even more because of current economic conditions,' he adds. 'It's a nice option for companies, particularly midsize companies, that see a competitor infringing their IP to get the resources needed to be able to protect their rights. So it's something that we as a firm actively pursue.' "
Michelle goes on to draw an important distinction between frivolous claims and those that are attractive to funders like Validity. "Eber insists, however, that if a legitimate funder agrees to take on an NPE [non-practicing entity] case, it usually means that there is a strong 'meritorious claim' at the heart of the claim. The majority of legitimate funders tend to avoid the patent trolls that pursue frivolous claims, she argues. 'What we're really looking for—whether or not the company is actively selling anything—is a strong invention story, and that means strong patents.' "
The article also discusses the issue of disclosure of litigation funding in IP litigation. "As Eber and Rochford note, in many scenarios, plaintiffs are more than happy for funding to be disclosed because it underscores that their case is strong enough to receive substantial backing. 'Sometimes it's helpful to disclose that there's a funder in the background, because that gives some added legitimacy to the case, and indicates that the plaintiff is serious about pursuing the claim and has the resources to do it,' adds Rochford. 'It shows that they're not going to be worn down by a deep-pocketed defendant, that they are determined to try and have their rights vindicated.' "
"Yet, for many, the incentive for secrecy remains. As Eber insists many plaintiffs have legitimate concerns over whether their funding arrangements will become 'a sideshow or a distraction.' The fact that some chose to get an outside funding source to help them have their day in court certainly (unless there is a potential conflict of interest) isn't usually relevant to the issues in the patent case, she contends. 'The court should address questions such as: is the patent valid? And what kind of damages should arise from the infringement? There is a risk that disclosure can be a distraction from all of that.' "
The article concludes with a discussion of the potential future for litigation funding in the IP litigation space. "As Eber notes, many are still navigating uncharted territory when it comes to the litigation funding landscape. 'Nobody is sure how it's going to play out, and they are watching with bated breath to see how it all turns out.' But she is adamant that despite its detractors and somewhat shadowy past, third-party funding litigation is now a firmly entrenched, and respectable, route for plaintiffs— and will evolve in response to any future stipulations. 'I don't see that third-party funding will ever go away. It will just maybe adapt, depending on what's required to be disclosed in the future.' Rochford agrees that a lot of the funders, particularly the biggest established ones, are getting more and more comfortable with funding patent cases. He concludes: 'They've created funding vehicles that are more customised for patent cases because they've ultimately figured out that patent cases can be lucrative and rewarding.' "
You can read the full article on World IP Review's website here (subscription may be required).