May 4, 2022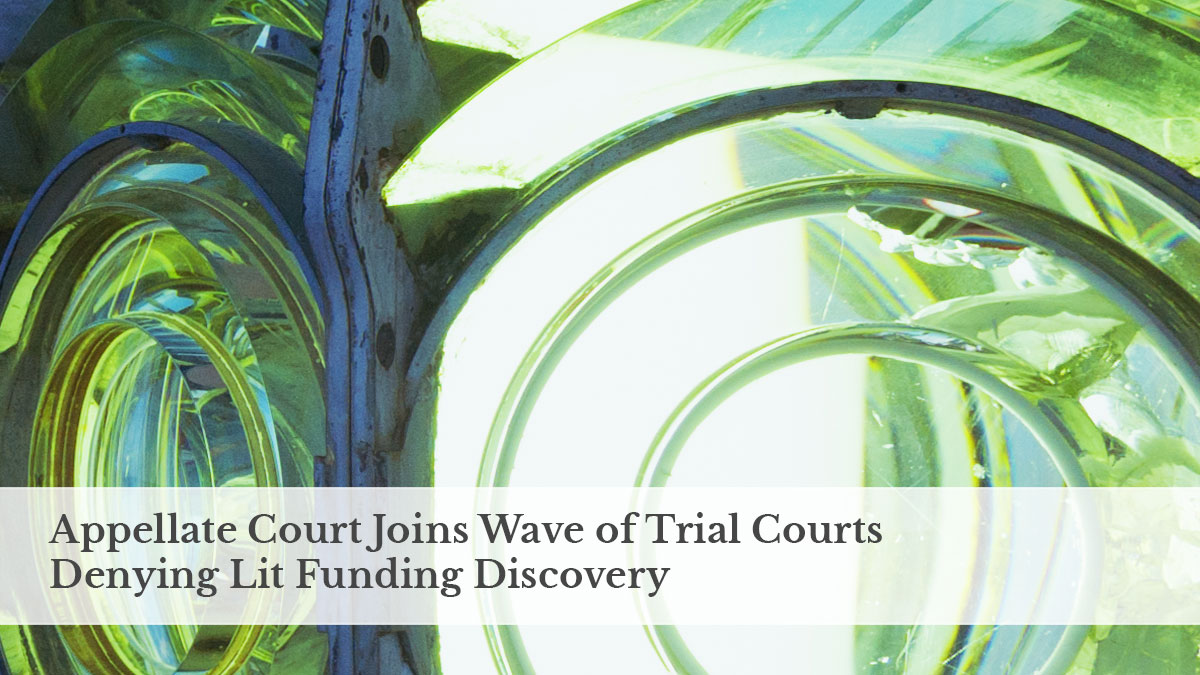 With courts across the country handing down decisions at such a rapid clip, it sometimes feels as though this blog could be dedicated entirely to the growing body of law that litigation funding arrangements are generally not discoverable. The latest addition, Worldview Entertainment Holdings Inc. v. Woodrow,[1] is, however, especially notable: It appears to be the first published decision out of a New York Court of Appeals – and, indeed, apart from the trial court's brief ruling, out of New York state court – squarely addressing the relevance and discoverability of litigation funding arrangements.[2]
In Woodrow, a five-justice panel of the First Department summarily rejected the defendant's attempt to probe the plaintiff's financial arrangements through four document requests targeting the financing or assignment of plaintiff's claims. The panel, which included the First Department's presiding justice, gave the defendant's arguments relatively short shrift, finding them "palpably improper" (the standard required to overcome plaintiff's failure to raise timely objections to the requests) in the span of just a few sentences.
While the court's brevity seems at odds with the significance of the decision, it may simply be the product of the case before it. By the time the defendant moved to compel this discovery, the litigation was already five years old, and discovery was meant to be wrapping up, not opening new lines of inquiry. In addition, and as the court was careful to point out, the claims and defenses cited by defendant as relevant to the document requests were not actually raised in the case. Still, the court's final conclusion that the discovery should be denied because "defendant has not explained how discovery about litigation financing and witness payments would support or undermine any particular claim or defense" is a helpful reminder of discovery's limitations.
Perhaps the most interesting aspect of the decision, however, is that the funder identified was not a typical third-party funder. Woodrow was seeking discovery into financial arrangements between an individual he described as a key fact witness – a shareholder in the plaintiff companies that fired him (or, as he contends, forced him out) – who he claimed was driven by personal animus to fund the litigation even to the point, he argued, of financial ruin for both him and the plaintiff companies. Yet the court still declined to order the discovery, implicitly rejecting Woodrow's argument that broad allusions to bias, motive and credibility should make a plaintiff's financial arrangements discoverable.
If discovery is improper even with such a third-party funder, it is hard to imagine that the court would be inclined to grant discovery into a plaintiff's arrangements with a typical third-party funder like Validity.
For funded parties and their lawyers, Woodrow confirms the established trend, now even at the appellate level, that discovery into litigation funding documents is improper. For policymakers considering mandatory disclosure rules, perhaps the decision will signal that judges already have all the power they need to mandate disclosure on a case-by-case basis – and that jurists are almost uniformly concluding that such disclosure is improper.
[1] No. 15841-15841A, 2022 WL 1249050 (Apr. 28, 2022).
[2] While relevance and discoverability do not appear to have been squarely addressed before in New York state court, New York federal courts have already weighed in. See, e.g., Benitez v. Lopez, No. 17-cv-3827, 2019 WL 1578167, at *1-2 (E.D.N.Y. Mar. 19, 2019). And, of course, New York state courts have recognized the legitimacy of litigation funding as an industry in other contexts. See Hamilton Cap. VII, LLC, I v. Khorrami, LLP, 48 Misc. 3d 1223(A), 22 N.Y.S.3d 137 (N.Y. Sup. Ct. 2015) ("Modern litigation is expensive, and deep pocketed wrongdoers can deter lawsuits from being filed if a plaintiff has no means of financing her or his case. Permitting investors to fund firms by lending money secured by the firm's accounts receivable helps provide victims their day in court.").