January 14, 2022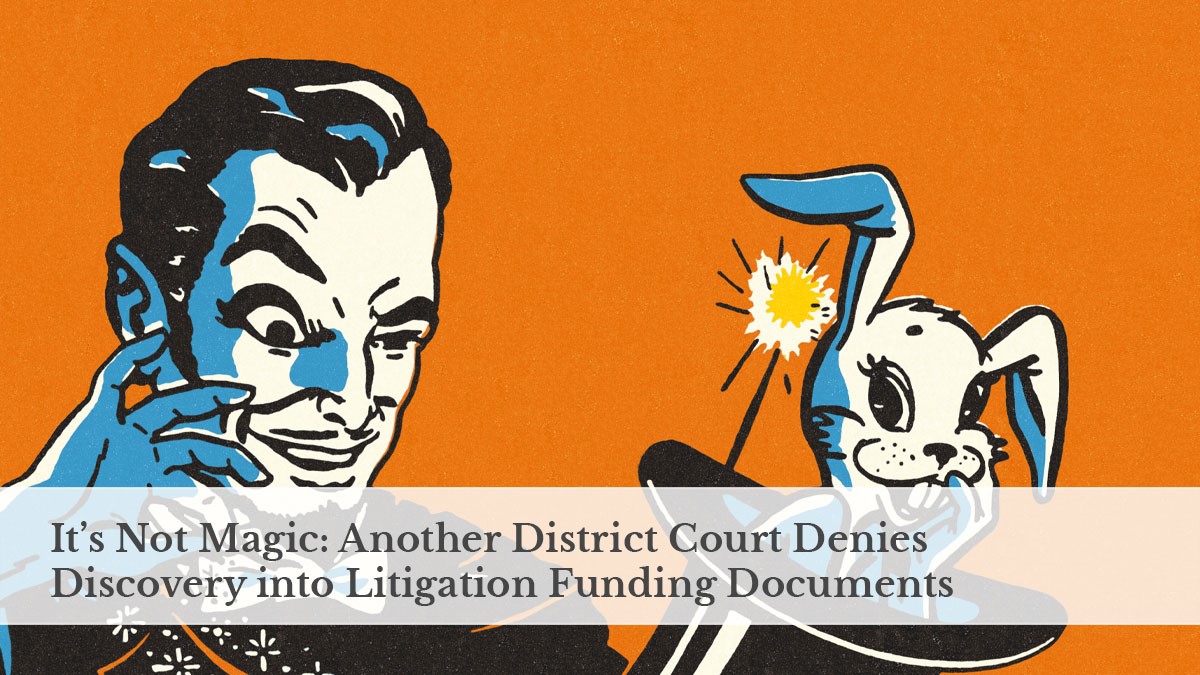 Add the District of Massachusetts to the long list of courts denying discovery into litigation funding documents.
Neural Magic, a Massachusetts startup, sued Facebook, a one-time Massachusetts startup, for trade secret misappropriation. Facebook moved to compel production of Neural Magic's communications with litigation funders, but the district court rejected Facebook's longshot effort to pull a rabbit out of the hat. In doing so, the court followed the overwhelming view among courts that discovery into litigation funding should not be allowed.
The Neural Magic decision showcases the many spells plaintiffs can cast on a defendant's efforts to discover litigation funding documents. First, the court denied much of Facebook's motion at the threshold, ruling that most documents sought by Facebook were simply not relevant to the case. Federal Rule of Civil Procedure 26 only allows discovery into materials that are "relevant to any party's claim or defense," so irrelevant documents cannot be discovered.
The court began its analysis by quoting a leading case from the District of New Jersey holding that ordinarily "discovery directed to a plaintiff's litigation funding is irrelevant." The court also noted that Neural Magic had cited a "plethora of authority" from federal courts across the country denying such discovery. Although Facebook argued that communications with funders were relevant to Neural Magic's claim for attorney's fees and its anticipated "David versus Goliath" trial narrative, the district court rejected this argument on relevance grounds. The court likewise held that neither the identity of the litigation funder nor other potential funders, nor the date of the funding agreement, were relevant.
Second, the court denied discovery even into the limited class of documents that might have been "to a degree relevant." Rule 26 requires not simply that documents are relevant; the requested discovery must also be "proportional to the needs of the case." The court held that even if certain documents may be relevant to Neural Magic's damages or the value of its trade secrets, discovery should still be denied on proportionality grounds, because Facebook had already received significant discovery into those subjects.
Third and finally, the district court indicated that Neural Magic might have still another defense against discovery: privilege. Neural Magic argued that, wholly apart from questions of relevance and proportionality, its communications with litigation funders were protected from discovery by the work product doctrine, as many other courts have also held. The Massachusetts court stated that it need not reach that additional defense, because Neural Magic's relevance and proportionality arguments were sufficient to defeat Facebook's motion.
The Neural Magic decision highlights the many obstacles defendants face when they try to conjure discovery into a plaintiff's communications with litigation funders. Courts are getting it right, making discovery sideshows disappear and recognizing that cash-strapped litigants should be able to obtain litigation funding without concern that defendants will pry into their communications with funders.
The case is Neural Magic, Inc. v. Facebook Inc., No. 20-cv-10444 (D. Mass.). The decision is reported at ECF No. 224.