December 22, 2021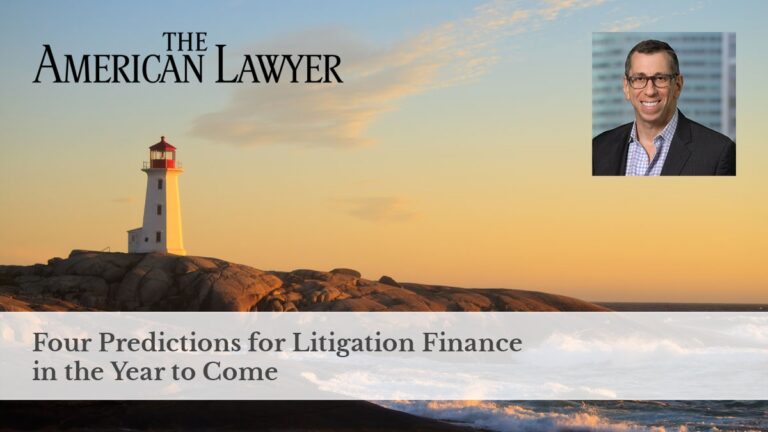 December 22, 2021
By Ralph Sutton
What should you expect in 2022? Fee-sharing patience, insurance gets involved, litigation funders give back and more.
We've come to the end of another spectacular year of litigation finance in the U.S. As I've done for the last few years, I offer some observations and four predictions for 2022.
Overall, 2021 saw continued growth in funding in the usual ways we've come to expect. The industry had many new entrants, raised more capital and deployed more investment dollars than in any prior year. None of this growth is particularly surprising, in my opinion. Far more interesting is the recognition that funding is both maturing and enormously useful because it makes our legal system more fair. What follows are several observations and prognostications about the next 12 months, largely focused on the maturation of the industry.
Funding Will Be Increasingly Recognized as Access to Justice
This coming year and probably every year going forward, litigation finance will be seen not only as a tool for spreading risk among lawyer, funder and client, but also as an increasingly important counterbalance to unequal access to legal redress.
A recent industry survey released last month provides perhaps the most persuasive evidence for this conclusion. Almost 90% of lawyers who have used or plan to use litigation finance believe that funding provides clients with greater access to justice. This finding means that lawyers who likely best understand our offerings recognize the industry's ability to mitigate legal inequality in our wider society. I also take comfort from this survey because it strongly suggests that commercial funders adhere to rigorous professional standards, and that commercial funding, will, as a result, be sustainable in the long run.
The Funding Industry Begins to Give Back
As our industry matures and is recognized as providing meaningful access to the courts, we must consider our place in the broader justice ecosystem. This means considering how we, as an industry, can help advance social justice initiatives. We will see much more of this over the next year or two, but there are some green shoots already visible.
One large funder has launched an initiative to give special consideration in funding to women-led trial teams. This project dovetails with corporate clients' demand for diverse and women-led trial teams from outside counsel. In another example, a London-based global funder, Therium, provides small monetary grants to worthwhile social justice cases and organizations in the U.K. Another U.S. funder provides zero-profit loans to Innocence Project exonerees during the pendency of their litigations against the city or state that wrongly imprisoned them, eliminating the need for much higher cost funding. And this year, a roundtable attended by over 25 leading academics, retired judges, funders and legal impact organizations considered the need for a social impact litigation fund to provide capital using standard litigation finance products.
Fee-Sharing With Nonlawyers Will Take Time
Law firms have labored for decades under guild-like ethical rules prohibiting them from issuing true equity in their businesses by sharing profits with nonlawyers. This inability to raise capital like any other business has hampered the profession—and service to clients—in many ways. As most folks who follow funding are aware, Utah and Arizona have recently carved out exceptions to ethical Rule 5.4 to permit law firms to take outside investor capital. This is useful and salutary. But it may be premature to pop the champagne just yet. It will require more key commercial states to reform their ethical rules before a meaningful number of funders and larger law firms will create business partnerships. Why?
Three reasons. First, law firms are justifiably concerned about their reputations. The last thing most general counsel wish to see is a headline citing their firm in a lawsuit involving investors. Second, it will take at least several years for many large commercial states like New York, Illinois and Texas to follow Utah and Arizona's lead (although Florida and California are, in fact, exploring similar reforms). The guild-like rules are sticky, and unlikely to be easily modified in most major commercial states. Finally, even if many states abolished the fee-sharing prohibition, in the existing "laboratories" of such innovation—Australia and the U.K.—only a few commercial funders have entered into such arrangements over a period of a decade or more.
Insurance Has Discovered Funding (and Vice Versa)
Many new insurance products will help investors in funding and funders themselves in the coming year. While "after the event" insurance for fee shifting has existed for decades, insurance is now available in certain circumstances to offset the risk in funded enterprises in at least two ways. To be sure, these are early days, and the premiums are often considerable, but where funders have proven track records of success, insurance carriers will now provide some coverage for investors in litigation finance funds. This principal protection will afford these investors with the ability to accept lower returns. Put another way, it will permit fund managers in our space to retain a larger share of potential recoveries.
On an individual case or portfolio basis, insurance markets are now open to insure cases on appeal to protect principal or to establish a floor of value, again at considerable premium cost. Where funders previously took on the entire risk of their investments, clients and funders may now look to what are, in effect, reinsurance products. Carriers, with the help of able brokers, will be able to make case merits assessments and share risk.
Grading Last Year's Predictions
Last year, I made five predictions. First, I foresaw greater innovation in dispute resolution as COVID-19 forced courts and parties to consider alternatives to jury trials. I won't grade this prediction as, pardon the pun, the jury is still out. Second, I suggested that funders would begin to finance corporate disputes on a larger scale. This has certainly happened; one point to me. Next, I predicted greater competition, while pricing remained steady, particularly in larger cities. This trend has continued and the many new entrants almost ensure greater competition, but the risks of funding cases has not diminished, keeping pricing steady. I also foresaw many shake-outs and consolidations, although this has not appeared to have happened. Finally, in a world of continued uncertainty about virus mutations and health, strong relationships of trust have continued to matter enormously.
A total of three points out of five. See you next year.
Ralph J. Sutton, a former trial lawyer and an early developer of litigation funding in the U.S., is founder and CEO of Validity Finance.
Four Predictions for Litigation Finance in the Year to Come | The American Lawyer
Reprinted with permission from the December 22, 2021 issue of American Lawyer.© American Lawyer ALM Media Properties, LLC. Further duplication without permission is prohibited. All rights reserved.