December 15, 2021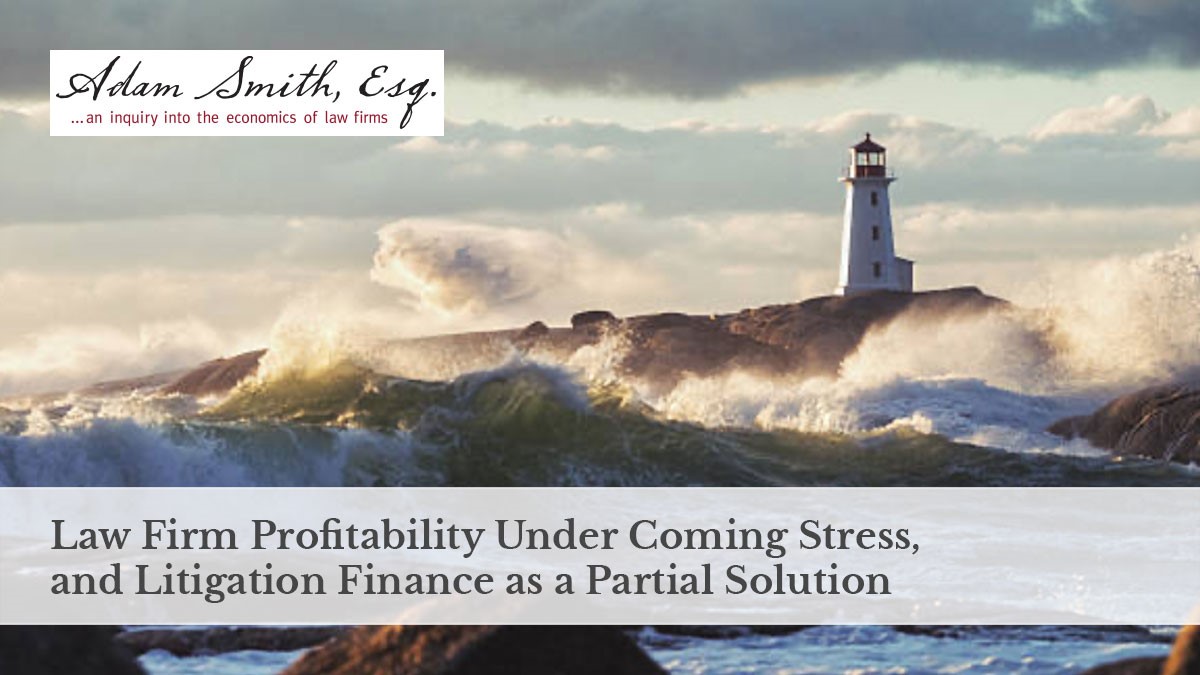 This Insight is based in part on a presentation given to Validity on November 30, 2021 by Bruce MacEwen from Adam Smith, Esq.
Law Firms Look Remarkably Alike. Bruce began his overview of law firm profitability by noting that law firms rely on a uniquely homogenous business model. Law firms all share essentially the same organizational structure, the same types of revenue streams and expenses, the same governance structure, and the same track for recruitment and advancement. Law firms are also part of a "mature" industry – a large, stable segment of the professional services sector that is long past its growth phase. That distinction gives law firms stability, but limits opportunities for growth.
Firms Are Under More Stress Than They Recognize. Bruce observed that the traditional law firm business model is under significant pressure. While recent law firms revenues and profitability are up, looking ahead there's reason to believe that growth rates and margins will be squeezed by competition for talent and rate pushback from clients. At a certain point, the typical levers for augmenting revenue growth under the BigLaw model – raising rates and increasing hours worked – max out.
Law firms are feeling further stress from shifting spending on legal services. Clients are increasingly redirecting their dollars from traditional law firms to in-house counsel or alternative legal service providers (ALSPs). Evidence and market case studies show that alternative legal services are so cost-efficient, every dollar spent on them takes three dollars out of the budgets allocated to big law firms. ALSPs are a $14 billion industry this year, and increasing at a compounded annual growth rate of 15%. The Alternative Legal Service Providers: 2021 Report by Thomson Reuters, Georgetown Law, and Oxford Saïd Business School concludes, "if anything, we're just at the start of a steeper growth trajectory." The prospective loss to traditional law firms is staggering.
Bruce's perspective is both highly insightful, and should be enormously concerning for law firm leaders.
Funding As a Possible Response to Mounting Law Firm Profitability Issues. So what's a traditional law firm to do? How can a mature industry pursue growth amid competition and pressure on profitability? One new potential solution is litigation finance.
To increase profitability, law firms can shift their business model to share risk in single cases and portfolios with clients and funders. Funded matters offer potential upside that exceed what a firm could earn from hourly work. A client with a meritorious single case can pay close to nothing upfront while a litigation financier shares the law firm's risk. The firm benefits by having at least half of its fees and all of the case costs covered, mitigating its risk. Firms may be entitled to 3x or 4x recoveries on their "invested" hours — the hours for which they are not paid in the case. And this is the big return, spurring profitability. Should the claim fail, the client pays nothing, and the law firm keeps half of its negotiated fees.
Litigation funding is also available for a portfolio of cases, an option that is increasingly popular with law firms of all sizes. In this scenario, the funder invests with the law firm in a portfolio of cases and receives a return from the portfolio's aggregate fees due the firm. Law firms tend to find this structure more efficient than single-case financing because it allows them to spread risk across a number of cases and share it with a third party.
Because the law firm's return can come from any of the cases in the portfolio, the portfolio structure also opens up the possibility of funding for defense-side cases, an innovation that allows a firm to take on corporate defense work that would otherwise be financially risky.