June 12, 2020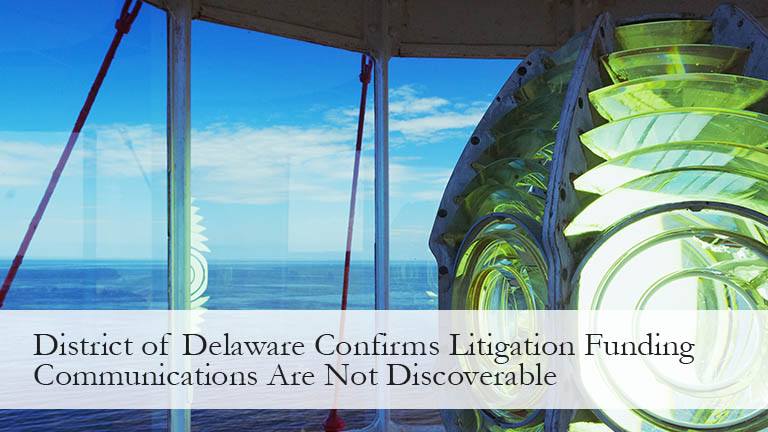 The District of Delaware is the most recent federal court to refuse to allow discovery into communications with litigation funders. In a June 12, 2020 Memorandum and Order issued in United Access Technologies, LLC v. AT&T Corp., et al., Cause No. 1:11-cv-00338, U.S. District Court Judge Leonard P. Stark denied defendant AT&T's motion to compel litigation funding-related discovery from plaintiff United Access Technologies ("UAT") in the patent infringement suit. The decision follows a trend of courts rejecting defendants' efforts to uncover details about their opponent's litigation finance arrangements and communications.
AT&T had sought to discover communications between UAT and third parties regarding their potential investment in UAT's lawsuits. AT&T also sought "quarterly updates" about the suits that UAT provided to third-party funders. UAT refused to produce the documents, claiming that the information was irrelevant and protected by the work product doctrine. AT&T moved to compel their production, and Judge Stark ordered UAT to provide the disputed documents for in camera review.
After reviewing the funding-related documents in camera, Judge Stark denied AT&T's motion to compel. In its decision, the court first noted that discoverability of litigation funding materials is an unsettled issue on which there is no binding Third Circuit precedent. The court then held that AT&T had failed to meet its burden to show that the requested materials were relevant to the case, as required under Federal Rule of Civil Procedure 26. The court summarily rejected AT&T's position that the court's 2018 decision in Acceleration Bay LLC v. Activism Blizzard Inc. held that communications with potential litigation funders are always relevant to issues in a patent infringement case. It found that AT&T had failed to demonstrate how the funding-related documents were relevant to the specific claims or defenses of the case at hand. Judge Stark further concluded, based on his in camera review, that none of the documents appeared to be relevant to any issue in the case.
Having denied the motion to compel on relevance grounds, the court declined to address the parties' arguments related to whether the documents were protected by the work product doctrine, attorney-client privilege, or any other legal privilege.