March 20, 2020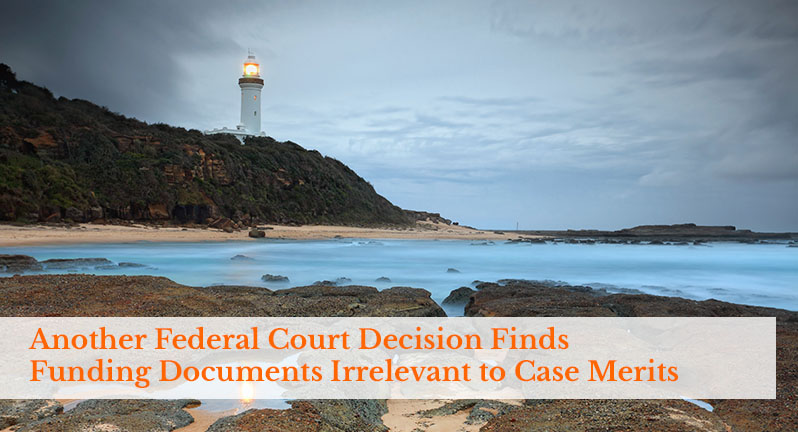 By now, the emerging consensus among courts is clear: Defendants generally may not obtain discovery of a plaintiff's litigation funding arrangements. Many lawyers and litigants are familiar with the argument that funding documents are not discoverable because they are protected by the work product doctrine. But a recent decision by a federal district court in Nevada highlights that courts increasingly recognize that they need not even consider whether the work product doctrine applies because discovery requests that probe a plaintiff's funding are simply irrelevant to the case.
The Nevada case, V5 Technologies v. Switch, involves an antitrust dispute where the defendant, Switch, sought discovery of whether the plaintiff, Cobalt, had litigation funding. Switch requested any documents related to Cobalt's funding, it sought an order compelling Cobalt's witnesses to answer deposition questions about funding, and it even sought Cobalt's attorney retainer agreement. Switch offered four principal reasons why the funding documents were relevant: It argued that its competitor might be funding the litigation; that non-party witnesses might have an undisclosed financial interest in the case; that a third-party funder may have discoverable evidence; and that the judge or jury might have a conflict of interest.
Federal Rule of Civil Procedure 26(b)(1) permits discovery of "any nonprivileged matter that is relevant to any party's claim or defense and proportional to the needs of the case …." The magistrate judge, in an order adopted and affirmed by the district judge, held that Switch's "proffered bases for this discovery amounts to rank speculation that does not suffice to bring its requests within the realm of permissible discovery." Echoing similar court decisions holding that funding documents are irrelevant to the case merits, the court colorfully held that although Switch "attempts to poke holes in that showing of irrelevance by grabbing its baton, trumpets, and costumes to put on its own parade of horribles," each of those arguments fails.
The magistrate judge explained that litigation funding documents could not possibly be relevant to whether Switch's competitor was funding the litigation because Cobalt had already testified that a competitor was not funding the case. To Switch's argument that a non-party witness might have a conflict of interest, the court emphasized that Switch was already able to ask those witnesses if they had a conflict of interest. Similarly, the court recognized that jurors could be asked in camera during voire dire whether they might have a conflict of interest, if the judge found it necessary to probe any potential conflict. The court held that Switch offered only unsupported speculation that a third-party funder might have discoverable information. As for Switch's argument that the judge might have a conflict of interest, the court recognized that local rules already address this issue by delineating the scope of mandatory disclosures for judicial conflicts.
The V5 Technologies decision offers at least three takeaways for the legal community. First, courts increasingly hold that discovery into funding is usually irrelevant to the case. The magistrate judge quoted another recent decision federal court decision recognizing that "courts across the country that have addressed the issue have held that litigation funding information is generally irrelevant to proving the claims and defenses in a case." Fulton v. Foley, 2019 WL 6609298, at *2 (N.D. Ill. Dec. 5, 2019). Only in exceptional circumstances, where there is a specific, demonstrated need for discovery, will funding documents be deemed relevant to the case. Other recent decisions that highlight this trend include In re Valsartan N-Nitrosodimethylamine (NDMA) Contamination Prod. Liab. Litig., 405 F. Supp. 3d 612, 615 (D.N.J. 2019); Benitez v. Lopez, 2019 WL 1578167, at *1 (E.D.N.Y. March 14, 2019); and MLC Intellectual Property, LLC v. Micron Technology, Inc., 2019 WL 118595, at *2 (N.D. Cal. Jan. 7, 2019).
A second takeaway is that although courts regularly hold that litigation funding documents are protected from discovery under the work product doctrine or the attorney-client privilege, the argument that the information is irrelevant provides a separate and independent defense to discovery. In V5 Technologies, as in other cases, the plaintiff argued in the alternative that funding documents were protected from discovery under the work product doctrine and the attorney-client privilege. But the court did not need to reach that argument because it resolved the dispute based on the threshold "relevance" inquiry. In other words, plaintiffs have at least three powerful defenses against discovery: relevance, work product, and privilege. Discovery occurs only if the defendant surmounts all three defenses.
The third takeaway is that the V5 Technologies case presents yet another blow to efforts at mandatory disclosure of litigation funding agreements. Courts can require the disclosure of funding documents on a case-by-case basis whenever they are relevant to a party's claims or defenses. Yet there is a growing consensus among America's jurists that only rarely will those documents be relevant to the case. This means that proponents of statutes or rules requiring mandatory disclosure in all cases are effectively seeking the disclosure of information that courts recognize will almost always be irrelevant to the case.
Indeed, by coincidence, V5 Technologies was decided only four days after a working group of the New York City Bar Association concluded, after more than a year of deliberation, "that there should not be a mandatory disclosure requirement in federal and state courts with respect to the funding of commercial litigation at this time," and that funding details may be disclosed only under "special circumstances." (If you want to read more about the NYC Bar Association working group's report, see this analysis by Validity's former Investment Manager, William C. Marra.)
The district court's decision in V5 Technologies is available at 2020 WL 1042515 (D. Nev. March 3, 2020). For the magistrate's decision, see V5 Technologies v. Switch LTD, No. 17-cv-2349 (D. Nev. Dec. 20, 2019), ECF No. 160.