January 30, 2020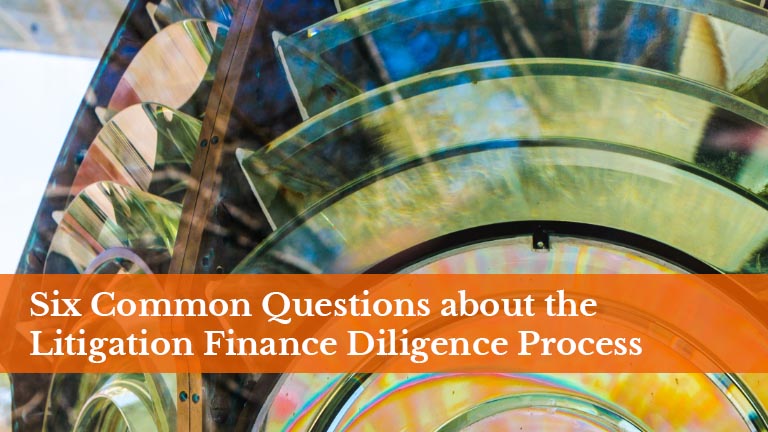 A litigation funder's due diligence is critical to its business. Due diligence is a funder's only shot at determining whether a potentially years-long and often unpredictable litigation is a good candidate for investment. Done right, however, the process is neither burdensome nor challenging for the plaintiff but benefits plaintiffs and lawyers alike.
To start with, at Validity we view it as an opportunity for us not only to take a more in-depth look at the case, but also for us to develop a good working relationship with you. Although the funder does not control the case or legal strategy, plaintiffs should view their litigation funder as a long-term partner with whom a collaborative, trust-based dynamic will be important.
To that end, Validity shares the findings and opinions reached in its due diligence with plaintiffs and their counsel, whether a decision to fund the litigation is made or not. This dialogue can assist counsel in framing claims, testing arguments and shaping legal strategy. Indeed, Validity's due diligence has in a number of cases revealed issues that – because they were caught early – were able to be addressed by counsel quickly.
So what does the due diligence process entail?
Each funder may have a slightly different process and timeline. By the time you advance to the diligence stage with us, we will already know the basic facts of the case and legal arguments, as well as the jurisdiction, judge, counsel, case timeline, budget and expected damages. We will also have executed a non-disclosure agreement to protect confidential information and a term sheet so that we are agreed on the basic terms of the investment.
Here are some common questions people often have at the beginning of the diligence process.
1. What information do I need to prepare?
It depends on the stage of litigation. Generally, funders are looking for cases that are strong on the merits, with a compelling narrative and evidentiary basis.
The types of information funders typically ask for include:
For cases that are already underway, key filings that have been made in the case to date, as well as drafts of any upcoming filings;
Facts and arguments counsel anticipates will arise as the case unfolds;
If the claim has not yet been filed, evidence that will become discoverable once the case is in litigation—g. agreements, policies, correspondence, etc., as well as any analysis of the legal claims and arguments;
Any witnesses or experts that will be important to the case; and
Any potential obstacles or challenges identified.
2. How do I know my confidential information will be protected?
First, there is certain information you should avoid sharing with a funder. You should withhold attorney-client communications and other information you think might be privileged unless there is a compelling reason to share it and you have already discussed it with your counsel. Sophisticated funders have experience in protecting client confidentiality.
That said, it is necessary to share some confidential information in order for the funder to understand the merits of the case. Most courts have found that attorney work product protection – which should cover the materials funders request – extends to litigation funders. This may include any memos as to merits, counsel's assessments or proposed legal strategy. The fact that you are considering funding—as well as the existence and terms of any potential litigation finance contract—are also things commonly kept confidential from litigation opponents.
In order to protect attorney work product and any funding negotiations or terms from discovery, it is essential to sign a non-disclosure agreement early in the process. The funder should have knowledge of the rules governing such agreements in the litigation finance context in your jurisdiction.
3. What analysis will a sophisticated funder make?
Because most litigation funders invest in cases on a non-recourse basis, they are highly incentivized to choose those that are strong on the merits and likely to yield a recovery. At Validity, here are some of the things we evaluate in diligence to ensure we are picking cases that will meet the expectations of all parties involved—litigant, counsel and funder.
Facts and arguments—We verify the facts of the case and assess the potential legal arguments. We are a small team of former commercial litigators, and together we discuss each case in detail to ensure that we are asking the right questions and not overlooking important details.
Regulatory diligence — We confirm the legal and ethical rules in your jurisdiction with respect to litigation finance to ensure we can complete the deal as planned.
Track record —We look at the past rulings issued by the judge in the case, the outcome of similar cases that have been tried or settled in that jurisdiction, and the track record of your and your opponent's counsel.
Defendant's litigation history and solvency—We investigate the defendant's ability to pay, including whether there are any other large pending lawsuits, government investigations, business issues that could precipitate an insolvency proceeding, or other factors that may undermine the defendant's ability to satisfy a judgment.
We create a financial model of the various potential outcomes, budget and time horizons in the case, to understand how they might affect your recovery and our return on our investment.
We may consult outside experts as necessary, from our own network and at our own expense
4. How long will it take?
At Validity, we aim to complete the entire process, from case intake to final decision, within 4-6 weeks. We expedite our process to the extent possible because we know you need answers. You need to know how much money might be available in order to plan your legal strategy. And if a funder can't invest in your case, you need to know that ASAP, so that you can pursue other options.
Although diligence timelines may vary from funder to funder, be wary of indecisive funders who don't seem able to give you a timely answer. A prompt "no" is better than a long, drawn out "maybe". It may even be better than a long, drawn out "yes". If a funder delays too long in committing to a case, it can leave you short of capital at a critical moment and also damage your working relationship going forward.
5. What does it mean if you turn my case down?
The first thing to realize is that a funder's decision not to invest in a case doesn't necessarily indicate that the funder believes the case is weak.
Each funder is performing its own internal balancing act. The funder must ensure it has a carefully calibrated portfolio of investments. For example, it may not want to have too many high-dollar cases with multi-year timelines, or it may not want a portfolio that is disproportionately weighted toward a particular type of case.
Each funder has its own unique risk tolerance, too. For example, a funder may be loathe to invest in a case where the important facts will only emerge in discovery, while other funders feel comfortable taking that risk.
Also, keep in mind that funders often tend to be more risk-averse than lawyers who take cases on contingency. A funder's rejection of a case may simply signify that it did not meet the funder's particular risk criteria at the time, which can vary according to circumstances that are unrelated to the merits of a particular case.
6. If a funder doesn't invest, was it all a waste of time?
Even if a particular funder does not invest in your case, going through the diligence process can still be useful.
At Validity, we share our findings with the litigant and counsel, which sometimes helps to identify unexplored or under-developed arguments or theories of liability. It may also help the litigant craft the narrative both for the jury and for any other potential funder in the future. We are looking to build long-term, trust-based relationships with both our current and prospective clients, so even if we don't invest we will do everything we can to add value to your case and strategy.