March 21, 2019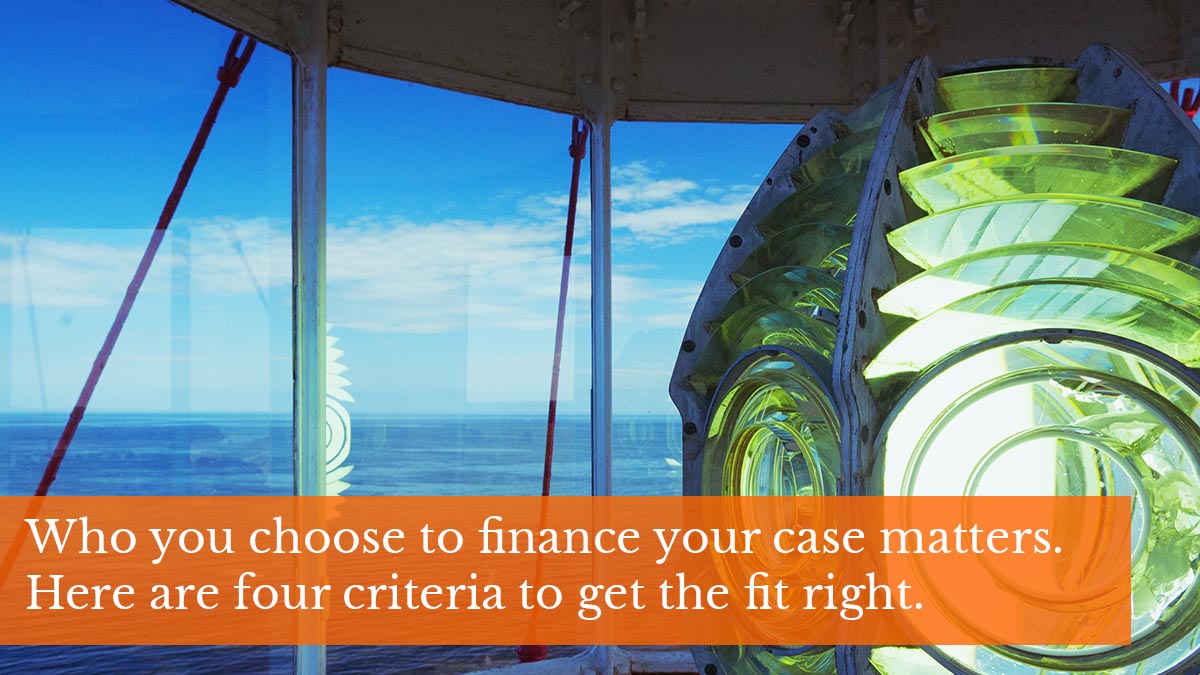 Key Takeaways:
Ensure you're working with a funder who has reliable and consistent access to capital.
Demand the highest levels of client service.
Don't be afraid to ask detailed questions about the funder's track record.
Consider whether your funder adds value beyond dollars and cents.

The litigation finance industry has grown rapidly over the last few years. As Validity founder Ralph Sutton wrote recently, capital has rushed into the industry "like a flash flood into a canyon gully." Lawyers and companies looking to secure funding are spoiled for choice when it comes to choosing a litigation funder - and that's a good thing.
That said, the number of options makes identifying the right funder for you as tricky as it is important. The funder you choose will largely determine the quality of your experience, so getting the right fit matters.
Yet, particularly for those new to litigation funding, evaluating funders and securing the best fit can be challenging.
Here are some factors you may want to consider.
Reliable Access to Capital
First and foremost, a funder must have reliable and consistent access to capital. You need to feel confident that the money will be there when you need it.
Generally, the term "litigation funder" describes a privately held or publicly traded entity that has its own pool of capital earmarked to invest in litigation. How a funder accesses that capital can vary widely, however. While some funders can draw upon a dedicated investment fund, others rely on multiple investors to provide financial backing. Still others in the market find and diligence cases first and then attempt to raise the necessary capital from their network of sources through a process called syndication. In some cases, from a client's perspective, syndication can add unnecessary complexity and uncertainty to the process and delay your access to the money you need.
Validity's affiliation with private equity firm TowerBrook Capital Partners allows us to draw upon $250 million in funds specifically allocated to our investment in meritorious litigation. We are one of only a handful of commercial litigation funders with reliable access to capital exceeding $100 million. While bigger isn't necessarily better when it comes to choosing a funder, you do want to ensure that the funder you work with has the liquidity to satisfy its commitment to you and deliver the capital you need to execute your most effective litigation strategy.
Dedication to Client Service
Your funding inquiry shouldn't be limited to who can provide the amount of money you're seeking. From start to finish, a litigation finance transaction establishes a business relationship among funder, litigant, and counsel. At Validity, we believe the litigation funding relationship should be based upon the same core values that undergird the lawyer-client relationship: mutual trust and respect, responsiveness, collaboration, adherence to the highest ethical standards, and delivery of creative, personalized solutions. If your funder treats you in a manner that falls short of how you would treat your own clients, it's time to look for a better funding relationship.
The level of service delivered can vary widely from funder to funder, due in part to the lack of consistent norms or best practices of the relatively young litigation finance industry. And because litigation finance sits at the intersection of the traditional finance industry and the legal profession, not all funders emerge from a legal background rooted in meeting clients' unique needs and objectives.
The Validity team is made up of former litigators with decades of exemplary experience serving our legal clients, and we've imported our client-focused principles into our litigation funding. To that end, we have developed our own set of commitments that we make to you, the client.
We believe that as part of the funding relationship, you should expect that your satisfaction will be your funder's priority. This means transparency about the process, quick response times, documents were written clearly and concisely in plain English, and a willingness to answer your questions and flexibly respond to your needs. If, on the other hand, a funder is slow, opaque, overly rigid, presents you with onerously complicated documents, or gives superficial answers to hard questions, that's a red flag.
You have a lot of choices when it comes to funders, and there is simply no need to settle for sub-par service.
Experience
Nobody wants to be a litigation funder's guinea pig.
Although commercial litigation funding has been available in the U.S. market for about 12 years, there are many new market entrants who lack experience. The funding process is likely to go more smoothly if you work with a funder that has a multi-year track record.
A litigation funder needs two core skills. First, an ability to understand the merits and complexity of litigation. Second, an ability to price litigation risk and express the potential outcomes in financial terms. Your funder should have a history of successfully doing both.
Validity was founded by one of the industry's pioneers, Ralph Sutton, who, after many years as a trial lawyer, became one of the earliest entrants into commercial litigation funding in the U.S. Ralph and other Validity team members have years of combined experience investing in cases and case portfolios. Drawing on this track record, we can speak to you in detail about the funding process, and we can explain which approaches have worked in our experience, and which have not. We can answer your questions about potential pitfalls, emerging deal structures, ethical requirements, and disputes that have arisen and how we've handled them. What's more, our litigation experience allows us to offer important strategic advice and feedback on your case.
An experienced funder can be a strong partner in both your litigation and funding needs. You should benefit from your funder's track record, not create your funder's track record.
Value
The essence of litigation funding is the provision of capital, but the right litigation funder can also become a trusted strategic partner.
At Validity, we aim to add value to our clients that goes beyond dollars and cents.
From the outset and throughout our diligence of a case, we can provide an objective, third-party assessment of case merits, strategy, and risk points. We conduct our diligence on our own dime, not yours, and and we offer to share our analyses with claimants even if we don't ultimately invest in a particular case.
After closing, we don't simply invest and then disappear. Our online client portal facilitates easy communication with us at any time. Throughout the development of the case, we remain available to answer questions or discuss strategic issues as they arise.
In a sea of funders with capital that may all look alike, at Validity, we're proud to stand out based on our transparency, client service, expertise, and track record.